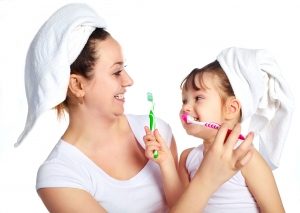 You're a good parent. You don't want to find out your toddler has cavities! So how do you get a squirmy toddler to let you brush their teeth each night? The truth of the matter is that  kids ages 1-3 do not have the enzymes in their mouths to create cavities.  BUT they will create cavities if plaque is left on teeth as they get older.
Getting your toddler in the habit of brushing every night is a great idea. So here are a few tips to help you encourage good habits:
A soft kids toothbrush with their favourite character on it will do wonders.  Let them pick their own toothbrush.
An electric kid's toothbrush will add a lovely bit of agitation and efficiency if your kid just holds the toothbrush to their teeth.
Use kid's toothpaste. It's designed for their little bodies and will taste great. A tiny bit, the size of a small pea is perfect.
If your child swallows the toothpaste that is fine. Toddlers who swallow trace amounts of fluoride often have stronger adult teeth.
If you are trying to brush toddler's teeth, name them. They will keep their mouths open longer.
Try to schedule your dental visit when your toddler is around 3 years old. They often like to copy adults and this might just foster a healthy interest in their own dental care.
There is always the option of brushing your child's teeth for them. They always want to do their own brushing which is basically chewing on the toothbrush. Compliment them on their effort of brushing their teeth and then tell them you want  to check out their friends inside their mouth.  Calmly have the child lie on their back in your lap or even on the bathroom counter if there is room.   With their mouth open calmly and gently brush each area while naming their favorite friend.  Playing with your child and making it a game keeps brushing a positive experience.  Don't forget they don't have the enzymes that create cavities at this age so start great habits now.